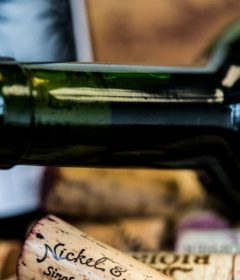 Food
We invite you to join us for the 2019 Wine Dinner Series as we keep our travels slightly closer to home.
⏤⏤⏤⏤⏤⏤⏤⏤⏤
Funky's Catering Events invites you back to the kitchen for a Russian River, Sonoma Valley wine dinner tour. Our trip takes place at The Transept on Friday, March 22. Click here for tickets.
---
HORS D'OEUVRES IN THE KITCHEN
Iberico Ham & Quail Egg Benedict Topped with Saffron Hollandaise
Buttermilk Pork Tenderloin Over Barley Risotto with Grilled Grape and Lemon
Salted Prickly Pear Sorbet Topped with Scallop and Avocado Ceviche
Roasted Moon Drop Grape and Wild Mushrooms on Heirloom Corn Cake with Cypress Grove Chevre
Kobe Burger with Veal Bacon, California Cheddar and Heirloom Tomato Jam on Brioche
FIRST COURSE
Amish Butter Poached Spot Prawn and Citrus Fruit Salad with Meyer Lemon and Local Honey Vinaigrette
2016 Zeitgeist Cellars, Trousseau Gris
SECOND COURSE
Bamboo Steamed Rockfish with Local Honey Miso Glaze Over Ginger Baby Bok Choy and Pork Belly
L'Oliveto 2017 Pinot Noir
THIRD COURSE
Cast Iron White Clover Lamb Rack with Local Asparagus Risotto and Grilled Artichoke with Sour Plum Lamb Demi Glace
Martinelli 2016 Bella Vigna Pinot Noir
FOURTH COURSE
Double 8 Wagyu Strip Steak with Maitake Mushrooms and Zinfandel Poached Pearl Onions, Charred Tomato and Confit Purple Potato
Day 2015 Zinfandel, El Diablo Vineyard
FIFTH COURSE
Frozen Avocado and Local Honey Mousse with Dark Chocolate Genoise and Candied Fresno Peppers
As with every Funky's Catering Events event, gratuity is earned, never expected. Should you wish to share a token of appreciation with the evening's staff, please let us know at the event.
⏤⏤⏤⏤⏤⏤⏤⏤⏤
Funky's Catering Events is pairing up with Fifty West Brewing to bring you a unique beer tasting dinner event! Featuring a menu crafted around Fifty West beers, this is a one-of-a-kind night that you don't want to miss! You can click here for your tickets to this March 29 dinner.
HORS D'OEUVRES
French Smoked Chicken Drumette with a Garlic Citrus Doom Petal Glaze
Mini Juicy Lucy with American Lager Beer Cheese Center & Crispy Fried Onion Ring on Brioche
Beer Braised Cincinnati Mettwurst on Chive & Aged Cheddar Potato Pancake
Wild Mushroom Strudel with White Balsamic Onion Jam
Beer: American Lager
FIRST COURSE
Warm Poached Shrimp with Peach & Mango Chutney and Charred Frisée
Beer: Chasing Sunset Ale
SECOND COURSE
Japanese Glazed Lamb Ribs Over Teppanyaki
Beer: Shiso Amber Lager
THIRD COURSE
New England Mussels & Clams with Fresno Chili Grilled Baguette
Beer: Doom Pedal
FOURTH COURSE
Beer Soup IPA Braised Veal Shank with Sage, Heirloom Carrots & Cipollini Onions and Parsnip Puree
Beer: Beer Soup IPA – A Collaboration with La Soupe
FIFTH COURSE
Dark Chocolate Stout Cake with Layered Vanilla Bourbon Infused Mousse and Whiskey Berry Compote
Beer: Marble Palace
⏤⏤⏤⏤⏤⏤⏤⏤⏤
Our last stop is the Central Coast of California. Join us on April 12 by clicking here for tickets.